ONLINE NURSING ASSISTANT COURSE
NURSING ASSISTANT (CNA) PROGRAM OVERVIEW
The Nurse Assistant Training Program consists of 175.5 clock hours of coordinated theory, lab and clinical learning activities for a total of 8 weeks. The program covers concepts on basic nursing skills. It is designed to prepare students to function under the supervision of the Licensed Vocational Nurse and the Registered Nurse in various healthcare settings. Successful completion of the program will lead to eligibility to sit for the competency exam administered by Regional Testing Center Hosted at Golden West College. Upon successful passing of the state competency exam, the student's name will be added in the Nurse Aide Registry which means that a student can work as a Certified Nursing Assistant (CNA) in healthcare facilities.
The program consists of 108 hours of clinical time and 67.5 hours of theory classroom time.
The 67.5 - hour theory portion of the program may be offered in an In-person format or in an online synchronous form. Upon completing the nursing assistant program, the student will be eligible to take a proficiency examination. After completing the program, passing the proficiency exam, and a cleared background check, certification is granted by the California Department of Public Health Licensing and Certification Program (L&C), Healthcare Professional Certification and Training Section.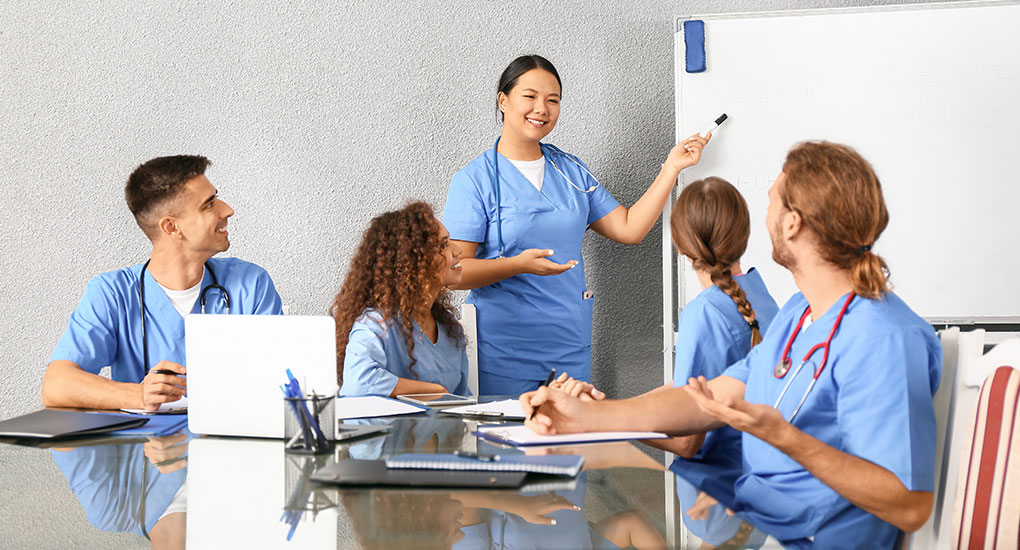 Specific Admission Requirements:
Clients' students must be 16 years old or older to gain admission to programs and per regulatory agency guidelines.

Completion of Assessment testing

Read, write and understand the English language as all classes are in English (No entry test for language proficiency).

High school Diploma or GED. (If student does not possess a high school diploma or Ged, client/student will be required to pass and entry exam, approved by BPPE Ability to benefit "WONDERLIC" before acceptance in program.

Complete a registration form for required program and admissions agreement

All applicants must have established legal residency within the United States and have a copy of a non-expired, valid government Identification and valid, non-laminated Social Security Card.

The first and last names on these items must match exactly for the CNA course.

Physical examination, which includes a TB test within the last 12 months

Copy of COVID Vaccine card/ or required testing per clinical facilities requirements

Criminal Background Check (BCIA 8016)
Program length: 24 days

Sample Schedule: Monday- Friday 7am-3:30pm for 24 days
Course deadlines: The last date to enroll in the nursing assistant training program is the first day of class if space is available.
Cities where clinical training may be held: Grand Terrace California, San Bernardino County
To successfully pass and graduate from the Nursing Assistant Program, the student must
Obtain an overall course theory grade of at least 75%
Obtain a passing grade on clinical- Pass is a successful demonstration of all required skills listed on the skills sheet as evaluated, documented, and graded by the instructor
Complete all the necessary coursework, course hours, academic and clinical competencies, compliance with institution procedures and regulations, including resolving any outstanding institutional charges of fees or misconduct
Technology and Operating System Requirement.
For the Nursing Assistant training program (In-person and Online), students must connect to the internet, Google Meets, and candas learning management system. Students must also check their emails daily while enrolled in the program.
Desktop or laptop with Internet connection (DSL, LAN, or cable connection desirable)
Windows 10 or Windows 11 or macOS Sierra or more recent
Core i5 Processor or higher
8 GB of RAM memory or higher
256 GB Solid State Drive or higher
Wireless AC Dual Band Adapter
4+ Hours Battery Life
Web Camera or Laptop With Built In Camera
Fill out an online application- payment required.
Representative will contact you to complete enrollment agreement
Submit all required documents by due date (High school cert, social security card, ID, Live scan fingerprint, Physical exam, TB test or Xray if applicable, Flu shot (during flu season- Nov-March)
Option 2 - Enroll in Person
Complete enrollment agreement-Payment required
Submit all required documents by due date (High school cert, social security card, ID, Live scan fingerprint, Physical exam, TB test or Xray if applicable, Flu shot (during flu season- Nov-March)
*Physical Exam/TB test- Must be completed within 90 days of end date of program
*Live scan Form – Must use form provided specifically for CNA program (Please note fingerprinting done for prior jobs/reasons are not accepted)


CNA PROGRAM – COURSE FEES- $2000 – payable to institution
NURSING ASSISTANT PROGRAM TUITION BREAKDOWN
$1421.98 Cost of CNA Program
$150 Application/Registration Fee (Non-Refundable*)
$147.02 Books and course materials* (Non-Refundable*, Not Returnable)
$68 Uniform (Non-Refundable*)
$48 Criminal Background Check * (Non-Refundable*)
$100 State Exam (Non-Refundable*)
$65 CPR (Non-Refundable*)
Absences:
In order to graduate from this program, each student must satisfy the 175.5 – clock hour requirement by the CDPH.

Theory:
No theory days may be missed. Missing any day of theory constitutes being dropped from the course. There are no makeup days for theory. If a student misses a theory day, the instructor is to notify the RN Program Director/Administrator the same day before the end of that scheduled class. The student attendance report must be completed and turned into the attendance clerk/NA clerk.
Clinical:
No more than eight (8) hours of absence from clinical can be missed. All make up is "hour for hour" for same Modules, components and content as missed and following the approved curriculum and lesson plans. Instructor must be present and available for questions during all training, including make-up, which is provided at the end of the course.
Career Opportunities
A Certified Nursing Assistant may consider pursuing a career in nursing and other medical fields. This gives the CNA an advantage to other students because of the hands-on clinical experience they have. Specific related career opportunities may include licensed vocational nursing, registered nursing, nurse practitioner, physical therapist, physician, physician's assistant, and radiologist.
CNA Competencies
The Nursing Assistant Course is designed to provide the student with nursing theory, laboratory, and clinical experience necessary to work as a CNA in a variety of health care settings. Classroom simulation will be utilized to reinforce clinical training.
Competencies for the CNA in Theory include instruction in the following areas:
Introduction
Patient's Rights
Interpersonal Skills
Prevention Management of Catastrophe and Unusual Occurrence
Body Mechanics
Medical and Surgical Asepsis
Weights and Measures
Patient Care Skills
Patient Care Procedures
Vital Signs
Nutrition
Emergency Procedures
Long-Term Care Patient
Rehabilitative Nursing
Observation and Charting
Death and Dying

Competencies for the CNA in Clinical include instruction in the following areas:
Resident Rights
Safety Restraints/Side Rails
Catastrophe/Unusual Occurrence
Body Mechanics – transferring, hoyer lift, ambulation, position techniques
Universal precautions, preventing infection
Weight and Measures – measuring intake and output
Resident Care Skills – bathing, dressing, oral hygiene, hair care, incontinency and skin care, bedpan, urinal, commode
Resident Care Procedures – collection of specimens, catheter, oxygen, bed making, enemas and suppositories, admissions, transfers, discharges, topical ointment application, non-sterile dressings
Vital Signs
Nutrition – feeding techniques
Emergency Procedures
Rehabilitative Nursing – adaptive equipment, motivation/ADL's, resident/family interaction, ambulation, range of motion
Observation and Charting – reporting responsibility, resident care plans